Don't know if i should be happy or terribly afraid...
Chapter 1
Edit
There was this pretty girl who's name was Seke. And every afternoon she would drag her friend Cara to watch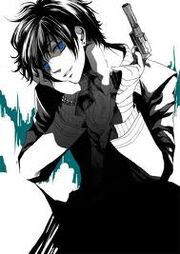 swim practice with her. " Why in the hell am I here?!" " To watch boys swim with other hot other boys~" .
Watch other boys swim with other hot boys. 
" Seke that just makes you thirsty. =.= "  " Does not!"  Cara ate popcorn, " It does... and it's really unhealthy for your eyes." " ...Fine. I'm gonna prove it to you." " ...... =.= Uh..huh.. prove?"  Seke dragged Cara over to the whole team. " Noooooooooo SEKE FUCKING LET GO!" " NOOOO. o3o "  So that's when Nagisa Hazuki became a yandere. " Oh Seke you shall be mine. If i shoot everyone it'll just be us."  <--- And a certain someone became jelly.